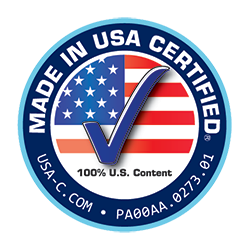 Ecore International, a company that transforms reclaimed waste into unique performance surfacing, is proud to announce that it's QT Sound Insulation is now Made in America Certified. Made in USA Certified®, the nation's leading third party independent certification source for USA-Country of Origin claims, provided the certification.
The QT certification process included an in-depth supply chain audit to verify what percentage of the product, from raw materials to packaging supplies, is sourced and processed in the USA. Once the audit is complete, Made in USA Certified awards a specific seal, certifying the percentage of components that are assembled and manufactured in the US. The various levels of certification range from 51 percent to more than 100 percent. ECORE's QT Sound Insulation was certified 100 percent Made in USA, meaning that 100 percent of the product's components (value) and 100 percent of the product is assembled and manufactured in the US.
QT is made from 92 percent recycled rubber and has been tested in more than 400 laboratory and field test assemblies. QT Sound Insulation has been proven to repeatedly perform as engineered to meet design requirements. The product and engineering support that is provided by QT Sound Insulation guarantees that QT will work as specified, every time.